News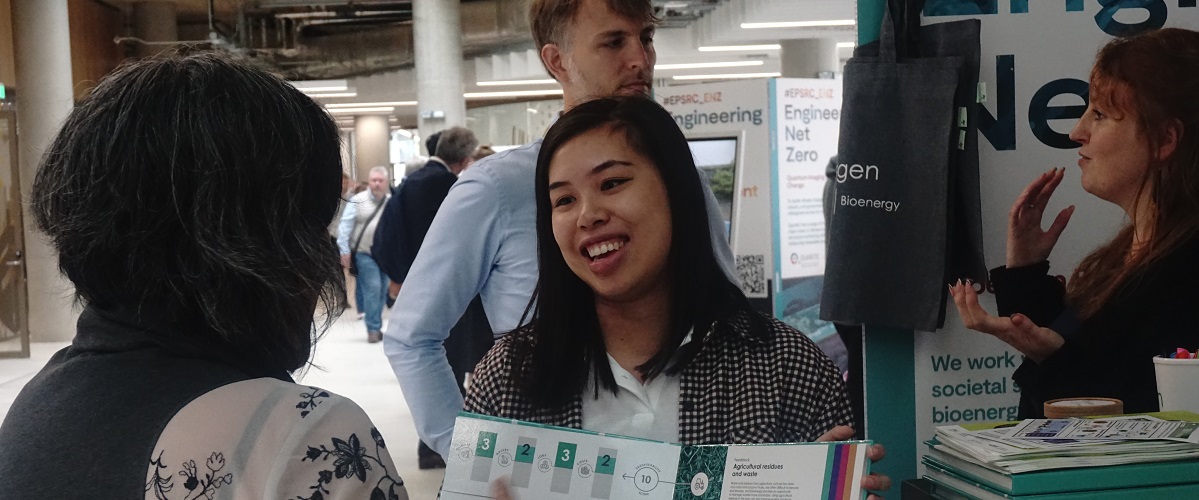 EPSRC Engineering Net Zero Week 2022
Between 20th and 24th June 2021, the Engineering and Physical Sciences Research Council (EPSRC) hosted an Engineering Net Zero Week, with an in-person festival between the 21st and 23rd, hosted at the new Advanced Research Centre at the University of Glasgow. The CE-Hub attended as an exhibitor and contributor, alongside a host of other exciting and innovative organisations, research centres, and enterprises, include the NICER Programme's National Interdisciplinary Centre for the Circular Chemical Economy (CircularChem).
Net Zero week was designed to showcase EPSRC-funded research that addresses the challenges linked to meeting 2050 net zero strategic targets, and was centred around four key themes:
towards net zero energy
solutions for a greener industry and urbanisation
our green future
delivering zero emissions transport and mobility solutions.
The event featured a number of keynote speakers, discussing a range of topics from the work of the Climate Change Committee, to the Engineering and Physical Sciences Research Council. There were also a range of engaging and wide-reaching panel sessions, on topics such as whole systems approaches to delivering a sustainable plastics future, key challenges on the path to net zero transport, and challenges and opportunities for a rapid urbanising world. The CE-Hub's Professor Fiona Charnley hosted a panel on 'Circular Economy Research, Innovation and Implementation', in which she was joined by a number of engaging and varied panellists, each with a unique perspective of and background in the circular economy. These panellists included Professor Jin Xuan, Director of the UKRI Interdisciplinary Centre for Circular Chemical Economy, Jocelyn Blériot, Executive Lead Institutions, Governments & Cities, Ellen MacArthur Foundation, Colin Kenedy, Zero Waste Scotland, Cheryl McCulloch, Glasgow Chamber of Commerce and Tom Dawson, Founder of Revolution Zero.  The panel offered an exciting opportunity to draw the connections between Net Zero and Circular Economy, with Jocelyn Blériot describing Net Zero as a target, and Circular Economy as the means, and other panellists providing examples from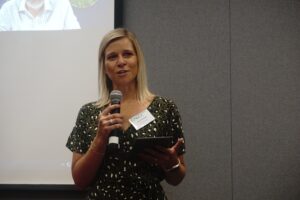 across sectors of the circular economy in practise. Tom Dawson spoke of the implementation of a Circular Economy Business Models for reusable medical textiles, reducing the need for single use PPE in the NHS. The session enabled audience members to develop their understanding of the Circular Economy through observing the panel discussions, and engaging in the following Q&A session.
Exhibiting the NICER Programme as part of the Net Zero Week in person Showcase proved an invaluable opportunity for the CE-Hub to connect and engage with other organisations and projects across a brea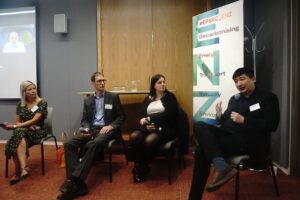 dth of areas from Finance and Technology, to Offshore Energy. As well as establishing cross-cutting themes, opportunities, and challenges, it was also useful to gauge general understanding of the Circular Economy. When asked to rate their understanding of Circular Economy, 42% of delegates surveyed responded 'Basic', and 46% answered 'Competent', emphasising the importance of the NICER Programme's presence at such events, to develop understanding and awareness. When asked how they would describe the opportunities of a circular, net-zero future, common answers included 'Promising' and 'Massive', but also 'Challenging', highlighting the need for continued discussion surrounding the opportunities and challenges of implementing Circular Economy. Later this year the CE-Hub will host a series of webinars to address some of the challenges and opportunities that exist between the circular economy and related topics in more detail.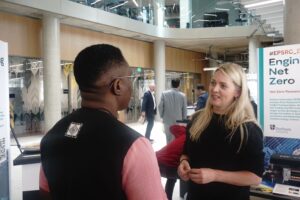 The EPSRC Engineering Net Zero Week proved an invaluable opportunity for discussion, learning, and interdisciplinary collaboration. A key message from the event proved to be that cross-cutting and whole systems collaboration will be essential to move towards Net Zero, principles that are core to the work of the CE-Hub.  Whilst Circularity is key to moving towards a more sustainable future, collaboration must be at the heart of Net Zero action order to create real change.
To find out more about how CE has helped organisations towards a greener future in practice, read our CE Stories. For CE resources and sector-specific information, visit our new Knowledge Hub. To hear more from the EPSRC Engineering week speakers and attendees and their insights into CE, check out our short film.