Circular Economy Showcase 2022
Wednesday 2nd March brought the inaugural NICER Programme CE Showcase, and the first in-person event of the NICER Programme to London.
The day gave the opportunity for the CE Community to network, share experiences and stories. Bringing together representatives from government, academia, global industry and small businesses, the event shared a diversity of expertise, experience approaches to CE.
As a part of the NICER CE Showcase, the Circular Economy Club led on an SME Showcase, giving innovative start-ups an opportunity to share their knowledge, ambitions and identify areas of collaboration with the wider CE Network.
Below, we share a few of our highlights.
Circular Design can lead to positive impact at all stages of the supply chain
The first panel session of the day focussed on Circular Design. Chaired by Sharon Baurley, Dan Dicker, Gaelle Le Gelard, Phillip Mossop and Kalkidan Legesse explored the different considerations throughout the design of a product, from sourcing materials, industrial implementation, end-of-use service and the role of our mindset, consumers, data and technology in closing the loop. We need to "challenge businesses to change their core business" says Dan Dicker, referring to the need to implement and consider circularity beyond 'recycling' existing products and consider the entire supply chain, production and sale of products.
Innovation is more than technological advances
The second panel explored how innovation is more than new technology. The panel chair, Mark Miodownik opened with a discussion on the term 'consumer', saying that we are more than consumers in a CE, we are citizens, makers, recyclists, repairers and much more. Thami Schweichler, Hugo Spowers, Kresse Wesling and Pawel Kisielewski went on to discuss social, political and systemic innovation. Promoting how together these can lead to positive change at scale. "When I see a bag and it is priced cheaply, I know it is because of exploitation and environmental degradation." Said Kresse Wesling, highlighting the need for governments to act as a convener to facilitate connection between different stakeholders in the economy.
Implementation at an Industrial Scale needs a collaborative, whole-system approach
Session Chair, Nick MacInnes opened the session highlighting that for CE to work at scale, "the whole model needs to work for everybody". Panellists Merjin Dols, Kirstie MacIntrye, Stephen Jamieson and Sam Turner discussed the barriers and enablers to industrial implementation, including data availability and transparency, collaboration, accessible infrastructure and clarity on how we account for sustainability.
FOR A UK CE TO BE SUCCESSFUL, WE NEED TO WORK TOGETHER
The schedule of the day allowed plenty of time for networking, SME Exhibitors to showcase their work and in-depth discussion around Circular Design, Innovation and Implementation. A key priority of the day was to allow the NICER Community to make new connections, share stories and find future collaborators.
Day two of the showcase was focused on the internal members of the NICER Programme, and provided an exciting opportunity for members of the Circular Economy Centres and the Hub to further collaborate, workshop, and discover new opportunities for partnership and cross-programme working. The day was centred around an exploration of the themes, challenges, and opportunities for the Programme, and constituted of a variety of collaborative activities and presentations.
If you are interested in joining our network and getting involved you can get-in touch with the CE-Hub directly or sign up to our newsletter at the bottom of this page to be kept up to date with future opportunities.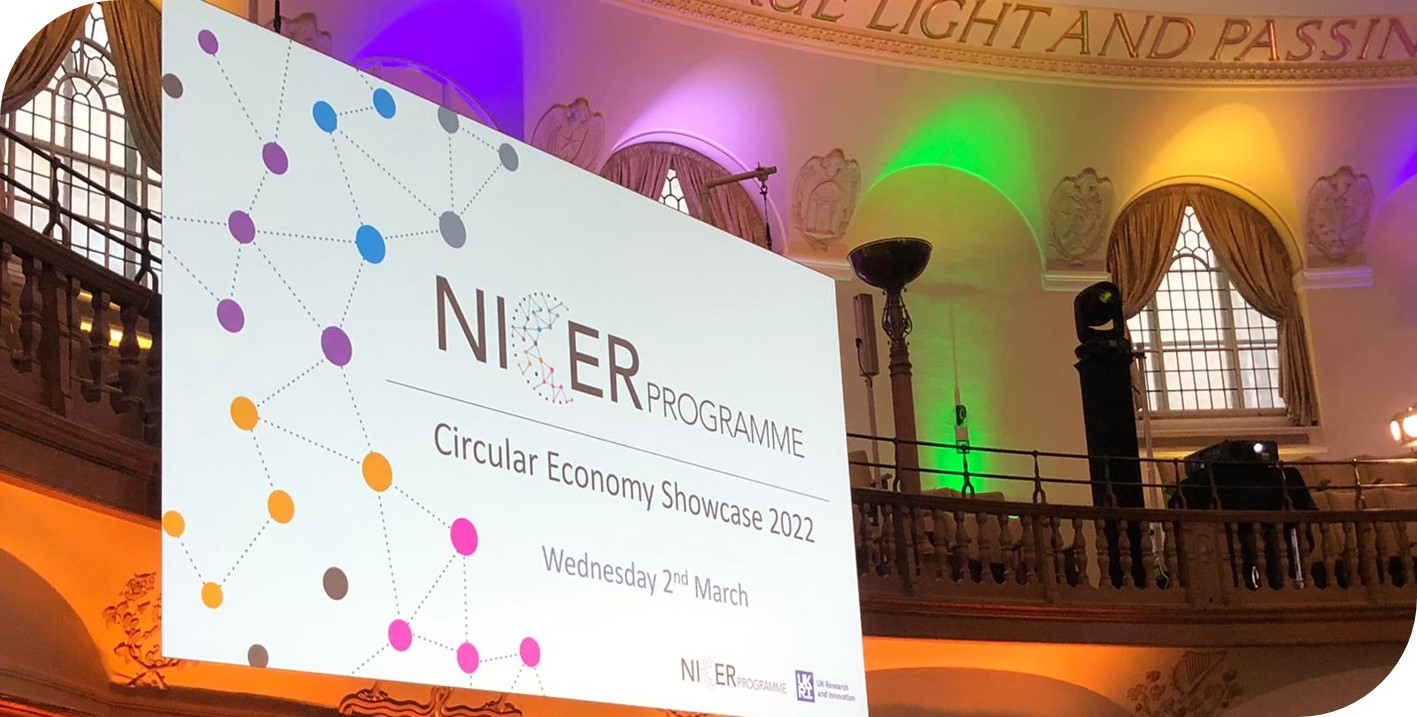 Watch the recording of
Panel Session 1: Circular Design
Run Time: 55mins
Watch the recording of
Panel Session 2: Circular Innovation
Run Time: 52mins

Watch the recording of
Panel Session 3: Circular Industrial Implementation
Run Time: 48mins

Our Delegate Summary providing an overview of the event, further information on our SME exhibitors and Event Supporters, The Circular Economy Club and Cambridge Institute for Sustainability Leadership.
The report is available to download: CE Showcase Delegate Summary Report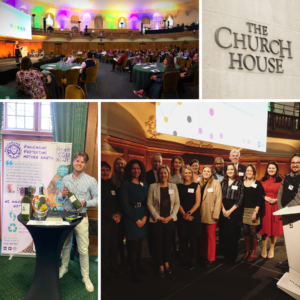 View the Report
UPCOMING OPPORTUNITIES
CE Hub Flexible Fund for Feasibility Studies
The CE-Hub has opened applications to the second round of Feasibility Studies to accelerate Circular Economy research, innovation and implementation across disciplines, sectors and value chains. More information is available on our Funding Pages.
Circular Economy Implementation for Smaller Businesses – University of Exeter Business School
This online course has been developed for small to medium sized businesses and their partners who are keen to work towards Circular Economy (CE) opportunities. The course adopts a collaborative and networked approach to learning and provides an opportunity for close cooperation between participants and some of the world's circular economy pioneers in business and design. More information on the University of Exeter Website here.
The Circular Economy Masterclass – University of Exeter Business School
The Circular Economy Masterclass offers business executives the opportunity to learn directly from leading experts in the field of Circular Economy, enabling participants to develop skills and understanding on how to successfully introduce practises into their organisation and close the implementation gap. More information on the University of Exeter Website here.
Circular Disruptors Accelerator – Cambridge Institute for Sustainability Leadership
The University of Cambridge Institute for Sustainability Leadership (CISL) are looking for early to growth stage startups to join their new Circular Disruptors Accelerator, taking place in Cambridge from 16-17 June, as part Circular Economy Week 2022. This free, two-day programme will bring together a select cohort of innovators who are challenging the linear 'take-make-waste' economic model with pioneering new circular business models, products or services. More information on the CISL website here.
Future Observatory – Design Museum and AHRC
Future Observatory is a new national programme for design research supporting the UK's response to the climate crisis. Researchers can apply for the Design Ecosystem Fellowships programme. Successful applicants will receive funding of up to £20,000 to spend up to six months reporting on transformative design innovation ecosystems in the UK. The aim is to highlight the strengths and weaknesses of production systems that support environmental sustainability, circular economies and waste reduction. More information on the Future Observatory Website here.
About the Hosts
The 2022 Circular Economy Showcase is hosted by the CE-Hub on behalf of the NICER Programme. The event is proudly supported by:
The Circular Economy Club with whom we have partnered with to deliver a SME CE Showcase, Prof David Greenfield CEC External Affairs led this section.
The Cambridge Institute of Sustainability Leadership, Emma Fromberg, course director at CISL was our event compere.