CE-Hub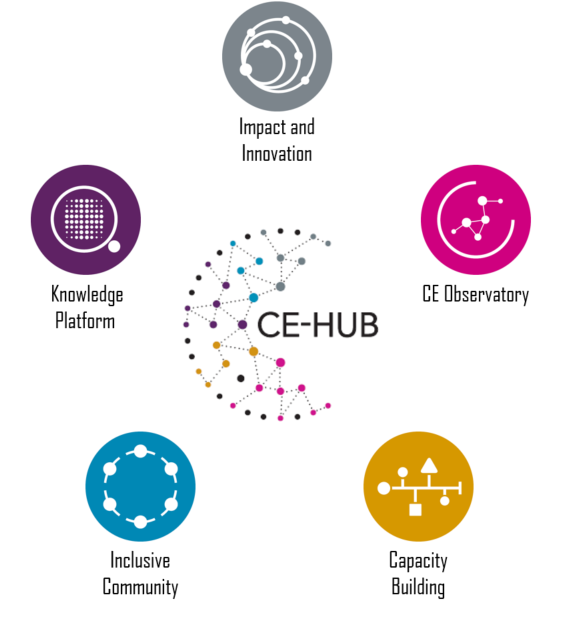 The National Interdisciplinary Circular Economy Research Hub (CE-Hub) is the coordinating Hub for the NICER Programme, a four-year £30 million UKRI funded programme working to provide the evidence base needed to deliver a resilient and restorative Circular Economy for the UK. The Hub works with the five UKRI National Interdisciplinary Circular Economy Research Centres on the programme, and brings together academics, industry practitioners, policy makers and civic society to deliver CE research and innovation.  
The overarching vision of the NICER Programme is to accelerate interdisciplinary research, innovation and impact to scale up a UK Circular Economy. The CE-hub has three aims to achieve this:  
To accelerate understanding and the development of solutions to enable circularity of specific resource flows (including related waste streams and uses, and within sector contexts)

 

To provide national leadership, and to coordinate and drive knowledge exchange across the programme, and with policy, consumer, third sector and business stakeholders

 

To ensure that research is embedded with stakeholders by involving businesses, policymakers, consumers, society, the third sector, and other affected communities in every part of the programme – including provision of funding to enable SME involvement.

 
OUR WORK
Over the course of the four years, the NICER programme will deliver systemic change in the way resources are used, valued and measured across the UK. Within this, the work of the CE-Hub comprises of 5 major elements: 
CE OBSERVATORY
The CE-Hub is building a National CE Observatory as a key reference point for data, analysis and insight into CE economic and business opportunity, pathways to implementation, and evidence of what works in practice. 
KNOWLEDGE PLATFORM
The CE-Hub's Knowledge Platform showcases examples of success, provides simple and readily accessible tools and methods to support implementation of CE practices, and enables a two-way exchange of knowledge and experience.
INCLUSIVE COMMUNITY
The CE-Hub is building an inclusive CE community that enables multiple stakeholders from diverse backgrounds and perspectives to have a voice, and to help shape a future CE that is better for everyone.
CAPACITY BUILDING
The CE-Hub is building capacity through training, education, career pathways and the promotion of new job opportunities as we move from the linear model of the 20th century to the age of circularity.
IMPACT AND INNOVATION
Impact and Innovation as central drivers for large scale transformation, and system wide change, including funding and coordinating a number of feasibility studies and co-creation of a UK CE Road map.