Making things last: a circular economy strategy for Scotland
2016, Scottish Government
This strategy sets out our priorities for moving towards a more circular economy – where products and materials are kept in high value use for as long as possible. It builds on Scotland's progress in the zero waste and resource efficiency agendas. A more circular economy will benefit:
the environment – cutting waste and carbon emissions and reducing reliance on scarce resources;
the economy – improving productivity, opening up new markets and improving resilience; and
communities – more, lower cost options to access the goods we need with opportunities for social enterprise.
Realising these benefits will mean rethinking our approach to how goods are supplied, how they are used, and what happens at the end of products' lifetimes. In this strategy, we are prioritising four areas, although we will also take action elsewhere:
Food and drink, and the broader bio-economy: food waste is a significant source of carbon emissions; and a more circular approach to the beer, whisky and fish sectors, for example, could lead to potential savings of half a billion pounds per year;
Remanufacture: remanufacture is already contributing £1.1 billion per year to Scotland's economy with potential to grow by a further £620 million by 2020;
Construction and the built environment: construction accounts for about 50% of all waste in Scotland and is a major influence on efficient use of resources;
Energy infrastructure: there are considerable opportunities such as the reuse of equipment from wind turbines and decommissioned oil and gas platforms.
Our ambition for waste prevention and using resources more efficiently is fundamental to achieving a more circular economy. We are setting a new target to cut food waste by a third by 2025 and will develop actions to help both businesses and households achieve these savings.
We want more products to be designed for longer lifetimes, ready to be disassembled, repaired and eventually recycled; with more companies keeping hold of valuable products and components through leasing, servicing, repair and re-sale. Scotland's enterprise agencies will make circular economy approaches a new focus for their innovation support and Zero Waste Scotland will establish a new support service, working closely with the enterprise agencies, to help businesses adopt these approaches.
We want second hand goods to become a good value, mainstream, option – helping reuse-businesses and community organisations to thrive. We will improve the capture of items for reuse; clarify the regulation of reuse activities; and build on the Revolve standard for reuse organisations to improve consumer confidence. We want major industrial sectors to learn from best practice to optimise the value of used equipment, and will pursue opportunities including reuse of energy infrastructure.
We want to empower Scotland's repair sector to grow, both business and community organisations. We want repair to be the first choice when items develop a fault, with an expectation of quality, reliability and value. We are looking at potential for a repair-finding service to make it easy to find where items can be repaired; alongside actions to expand repair skills in communities; and to engage more companies in offering repair services for the products they make or sell.
We want Scotland's strategically important remanufacturing sector to fulfil its potential for growth. The Scottish Institute of Remanufacture is already working to increase collaboration and innovation among remanufacturing businesses – with wider support led by the Scottish Manufacturing Advisory Service and Zero Waste Scotland as an integral part of Scotland's new Manufacturing Action Plan.
We want recycling to be routine in every business and household; with more consistent local services; more packaging designed for recyclability, and every household having access to a food waste service. We are working to improve recycling rates, collaborating with the waste and packaging industries; reviewing the exemption from the requirement for food waste collections in rural areas; and learning from experiences abroad, including deposit return schemes. We also want to see higher quality recyclate, and will examine how best to minimise contamination in household and commercial recycling to maximise both quality and value.
We want to stimulate debate on a more comprehensive approach to producer responsibility, through a single framework for all product types that drives choices for reuse, repair and remanufacture, while more fully exposing and addressing the costs of recycling and disposal. On individual products, we will focus on new schemes for tyres, furniture and mattresses.
We want Scotland to be an international leader in the efficient use of biological resources. While reducing waste is our priority, we want to maximise the value from biological resources which would otherwise end up in lower value uses or as waste.
We want the behaviours that support a circular economy to be seen as commonplace in Scotland – ending our 'throwaway culture' and communicating with people in a way that helps them see the true value in the products and materials they use. We will broaden understanding and encourage change among businesses, particularly, through the Scottish Circular Economy Business Network.
We want to embed the development of new skills and thinking in the next generation of designers, business leaders and innovators. We want to make sure Scotland's workforce has the right skills to take advantage of opportunities from a more circular economy.
We want to improve our range of indicators to better understand how products and materials flow through our economy, both to measure progress and to identify opportunities. To support this, we intend to move towards mandatory use of the electronic 'edoc' system for waste in Scotland.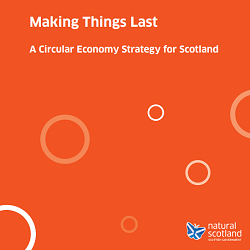 Making things last: a circular economy strategy for Scotland
View resource