Case Study: Winnow Solutions
Sector Focus: Agriculture and Food Systems
Approach, activities & rationale:
Global food waste is a documented problem with an estimated 931 million tonnes of food going to waste each year, representing 17% of global production1. Beyond contributing to food scarcity, reports estimate that up to 10% of global greenhouse gas emissions are associated with this waste. A key focus of transitioning to a circular economy involves moving to a regenerative agricultural system which builds natural capital, improving soils and biodiversity. Alongside this, designing out waste through effective value capture and redistribution and is an essential part of building a sustainable food system. Tackling this challenge needs a multi-faceted approach with companies such as Winnow, focusing on the food service sector specifically. Hospitality and restaurant systems account for around 26% of food waste, generating a wide range of negative environmental impacts and disposing of edible food that could be put to socially productive and more valuable alternative uses.
Winnow's aim is to inspire chefs to see that food is too valuable to waste. The business has developed technology to enable commercial kitchens all over the world to record and analyse exactly what is put in the bin. Employing Winnow Vision gives food service establishments true visibility of all food waste enabling them to become more efficient and gaining the highest value from food, saving money and reducing environmental impact simultaneously. Facilitating a move from the 'pen and paper' model, the system employs AI technology, smart scales and cameras to document food as it is discarded, with machine-based learning accurately recognising different types of food waste. Through use, the system gets smarter providing the additional benefit of reducing human error and saving time in the kitchen, with each food waste 'entry' being estimated to take just 3 seconds.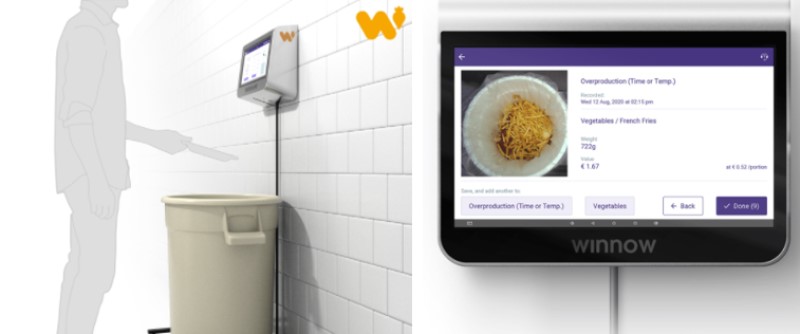 Winnow reports that employing their technology can help reduce food waste by up to a half within the first year and reduce food costs by between 3-8%, providing a positive return on investment within the first 12 months in around 95% of cases. As an example, IKEA have been working with Winnow since 2017, implementing the system in 23 UK&IE stores and have seen a reduction in food waste of 50%, equating to cost savings in excess of £1.4 million in 2018, the equivalent of over 1.2 million meals2.
Looking to the future, the Covid pandemic has forced many consumers and food service businesses alike to embrace significant digitalisation, employing new front-of-house technology and digital touchpoints. Through this period of change, additional opportunity exists for implementing novel back-of-house technology, with Winnow's systems offering a tangible method for food services to capture value leakage, meeting the demand for sustainability to be at the heart of the recovery. As with any novel technology, market exposure increases use and acceptance with Winnow's expansion likely to continue, already partnering with large organisations such as Compass Group, IKEA, IHG, Accor Hotels, Hilton and Costa Cruises.
Leadership:
Founded in 2013 by Marc Zornes and Kevin Duffy, Winnow was initially established in a single restaurant kitchen. The team recognised the problem of food waste and created a solution to capture the value leakage, based on the premise that 'what gets measured gets managed'. As a start-up employing an innovative business model, the company has attracted investment and grown exponentially, operating in over forty-five countries, with a clear vision of using technology to empower chefs to cook and use food smarter. Winnow became a certified B Corporation in 2017 and has enabled clients to save the equivalent of 36 million meals each year.
Challenges & enabling change:
Social or cultural factors
A challenge of introducing such a system has been users' concern over surveillance and assigning blame for waste, however through communicating with staff in a clear and positive way, businesses have overcome these barriers and found increased engagement and team action on waste. Supported by Winnow Hub, easy-to-use daily reports help kitchen staff identify top food waste streams, adjusting menus and production accordingly. In the words of a member of the IKEA Wembley Kitchen Team "Using the Winnow system, you can quickly see where you have issues or problems. It starts the conversation about the waste we have and why we have it. Nobody wants to throw away food away needlessly"3.
On reflection:
Winnow's innovative value capture mechanism can be characterised as a product service business model, allowing restaurants to internalise costs of food waste and potentially increase revenues via re-selling what would otherwise have been lost. The technology is currently targeted to businesses operating over ten sites with cumulative annual budget of £1 million. Looking at the wider market, with households accounting for 61% of food waste, what adaptations may be possible to employ the technology effectively at a scale appropriate for smaller food services and households?
Additionally, while waste is reduced through using the Winnow system, what additional support or network developments could Winnow offer to forge relationships with industry partners to capture further value from the remaining waste? Is there opportunity for employing waste separation at source which would help maintain a higher residual value in the waste stream? What other application areas could this technology be applied to?
Further information / Learn more:
https://circularitycapital.com
Adapted from the Vignette authored by Georgie Hopkins