Case study: Oddbox
Sector Focus: Agriculture and Food Systems
Approach, activities & rationale:
Across the globe, one third of food is wasted, equating to 74kg of food per capita each year. The significance of this challenge cannot be overstated, with food waste being the third biggest contributor to greenhouse gas emissions. Such wastage increases food insecurity, burdens systems and contributes to climate change, biodiversity loss and pollution. In response, Sustainable Development Goal 12.3 aims to reduce food loss and halve food waste by 2030, providing significant environmental, social and economic benefits.
Oddbox is a social impact business fighting food waste in UK farms. Currently, around 30% of fresh fruit and vegetables produced in the UK is rejected by supermarkets for not meeting their specification; be that too bendy, too ugly, the wrong colour, too big or too small. Oddbox works directly with farmers, taking excess seasonal stock and cutting out the supermarkets by offering direct home delivery to the end consumer.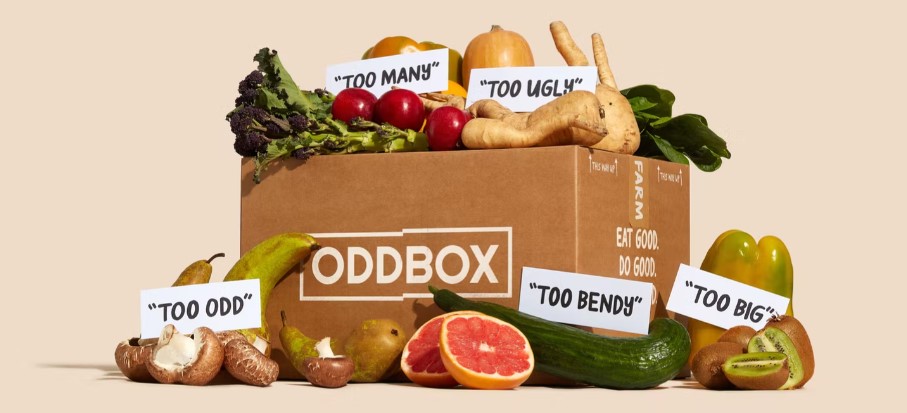 As a CE enabler, the founders of Oddbox identified value leakage in the supply chain and have provided a missing capability to capture it. From the farmers' perspective, working with Oddbox provides both a fair price and safe disposal of food that would otherwise be left in the field or need to be discarded. For customers, they receive the convenience of nutritious fruit and vegetables delivered to their home, at a price which is around 30% lower than similar subscription boxes, with the added benefit of knowing that they are buying ethically and helping to alleviate food wastage. In a further move to zero-waste, Oddbox partner with two charities, donating any leftover produce at the end of each week, further alleviating food poverty.
Since launching in 2016, the business has delivered nearly 3 million boxes, saving over 19 tonnes of food waste, the equivalent of feeding almost 42,000 people for one year. Having started in London, the service has already expanded to include the Southeast and areas of Northern UK. Through building a dedicated community, Oddbox has shown six-fold year on year growth since inception. Having raised £3m in March 2020, the company recently secured a further £16m in Series B funding to further facilitate expansion plans across the UK.
Leadership:
Cofounded by Emily Vanpoperinghe and Deepak Ravindran in 2015, the inspiration for Oddbox came from visiting fresh fruit markets in Portugal, where the often funny-looking fruit and vegetables on offer caught their eye, appearing very different to what is commonly presented in UK supermarkets. On researching the significant volume of produce rejected before leaving farms in the UK, the duo recognised an opportunity to make a difference and from this Oddbox was born. This passion to make a difference is engrained within the business with Oddbox now a recognised B-Corp, actively demonstrating that business can be a force for good.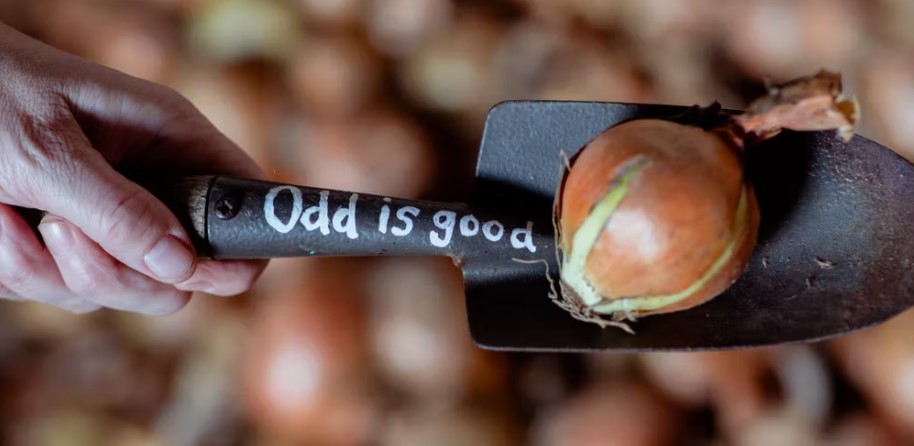 Challenges & enabling change:
Social or cultural factors, Operations and structure
The success of the model rests to a large extent on a fair and equitable distribution of value. This joint approach, that compensates farmers whilst also generating additional financial, social and environmental benefits, helps to build long-term partnerships between all actors in the value chain. However in the early years the challenges that the company faced were building partnerships with growers when volumes were low, and skepticism as to whether consumers would accept wonky produce.
Through combining social action, using engagement as an opportunity to demonstrate how every customer is making a difference every week, and build momentum with the early adopting customers, Oddbox has been able to grow their market reach. This has been possible through working alongside experts to define metrics and continuously refine the measurement of wasted food, both in terms of carbon emissions and water usage, producing personalised impact reports which are shared with customers throughout the year.
On reflection:
Oddbox is a great example of an enabling organisation, having identified value leakage in the system and provided the infrastructure to capture value.
The company has a vision to become the hub for wonky and surplus produce in Europe and there is no doubt the fruit and vegetables are available to be redistributed. However, a question may exist around seasonality and there being a suitable mix of produce to be able to provide customers with expected variety in each box? Additionally, with extended business reach, there will be a greater need for shipping of relatively low value, bulky produce. Could there be a situation where distribution costs outweigh the wider benefits of the business model? A possibility that may be of particular focus since the Covid pandemic and rising transportation costs.
Further information / Learn more:
https://www.foodnavigator.com/Article/2018/10/01/OddBox-on-delivering-cheap-ethical-produce-and-combatting-food-waste
https://www.uktech.news/news/london-based-sustainable-food-delivery-firm-oddbox-raises-16m-to-fight-food-waste-20210825
Adapted from Vignette authored by Georgie Hopkins.