Delivering the circular economy: a toolkit for policymakers
2015, Ellen Macarthur Foundation
The circular economy offers business leaders and government a clear opportunity for long-term growth that is less dependent on cheap materials and energy, and which can restore and regenerate natural capital.
This report provides an actionable toolkit for policymakers who wish to embark on a circular economy transformation. It identifies eight key insights, details policy options, opportunities and barriers, and demonstrates how the tools may be applied in a pilot study of Denmark.
The Ellen MacArthur Foundation developed the circular economy toolkit with key collaborators, the Danish Business Authority and Danish Environmental Protection Agency, analytical support by the McKinsey Center for Business and Environment, macroeconomic and policy analysis by NERA Economic Consulting, and funding from MAVA Foundation.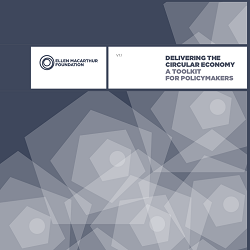 Delivering the circular economy: a toolkit for policymakers
View resource