Layla Sargent, The Seam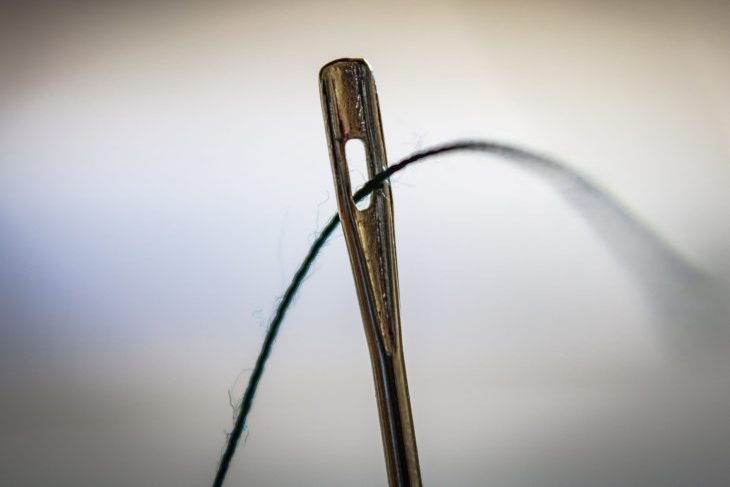 A recent winner of the eBay Circular Fashion Innovators Fund, The Seam is an online platform that connects customers with trusted, specialist tailors and seamstresses in your local area.  Inspired by her grandmother, founder Layla Sargent set up the business after recognising a gap in the market when she moved away from her family home. We spoke to Layla about her motivations for the business and what circular economy means to her. 
Was there a lightbulb moment that inspired you to work within the field of circular economy? 
I was born and raised in Birmingham and as a child spent many hours sitting next to my grandmother, a professional dressmaker of 65 years, watching her sewing, repairing, altering and making clothes.  
In our home, the concept of circularity was inherent to everything we did. We re-used, re-made, and repaired. Everything we owned, we cared for.  
In 2019 I moved to London and needed to find a tailor to help me care for a pair of denim jeans. Frustratingly I found it quite hard to find someone to do this. The tailoring industry was one of two very paradoxical worlds. On one side high street dry cleaners, feel budget and impersonal. On the other side, Savile Row tailors that feel expensive and exclusive.  
Neither suited my needs. I wanted to work with someone who had the specialist skills to care for my clothes, but at the same time offer a service I could afford. My clothes needed care but I just couldn't find the right people to do it. It was at that point that I realised the tailoring industry was in need of a seismic reinvention. So, I created The Seam – a simple two sided marketplace. On one side customers looking to have their clothes, shoes or bags repaired or altered. And on the other side a vast network of specialist, independent Makers.  
What do you feel is the importance of converting to a circular economy? 
I think there are two key factors here – one is about reducing need for new material, the other is waste. Let's start with reducing the need for new materials. In fashion, one of the most celebrated statistics within the circular industry is that by extending the life cycle of a garment by just 9 months of active use can reduce its waste, water and carbon foot prints by 20%. Constantly extracting new resources and manufacturing clothes has an incredible impact on the environment. The average carbon footprint of creating a pair of jeans is around 33 kg of CO2 which is equivalent to driving a car for around 80 miles. 
Secondly, reducing waste. By reusing and recycling materials and products we can help to reduce the amount of waste that goes to landfills and incinerators, and so reducing the associated environmental and health risks.  
What are the main challenges you've faced, and how have you overcome them? 
I've found that the tailoring industry is very fragmented and there is a lack of regulation or infrastructure. For example, with pricing. It's a very unregulated industry which means customer expectations can be wildly different – by introducing a pricing guide, The Seam creates standardisation across the industry.  
Another example is the lack of accessibility and ease of use that means that people don't use tailors.  
Traditionally we would have had tailors on all high streets but due to the cost of rent and various other factors, this just isn't the case anymore. And yet there are 22,000 tailors and seamstresses who work across the UK. There is a clear gap between leveraging their skills and connecting them with customers, this is where The Seam comes in. I realised that we needed to update the industry using smart technology to fill that gap, connecting customers to local Makers based on their individual needs. For example, the type of fabric or service they want, be it repairs, alterations, customisation etc. 
What has surprised you most about implementing circularity within your work? 
I'd say the thing that had surprised me most is understanding that all elements of the circular business model need to happen in order create change. Without care and repair, rent and re-sale are inherently limited. All the elements are required to work together in order to create the change we need within the industry. 
What have you found to be the main barriers in adopting and implementing a circular economy? 
Cultural attitudes and behaviours:

The adoption of circular practices requires changes in cultural attitudes and behaviours, such as the preference for new products over repaired or refurbished ones, or the use of disposable products. This can be difficult to achieve where societies have deeply ingrained consumer habits.

 
E

conomic incentives:

The linear economy model of "take-make-dispose" is often cheaper and more profitable than circular economy models. This can make it challenging for businesses to invest in the necessary changes to transition to circular models, especially in the short-term. Which is where retailers/businesses focussed on the longer-term and future proofing their businesses now will win.

 
Can you tell us about any key successes? 
I'd say one of our big successes has been working with the industry leaders in retail to launch care & repair programmes for them. For example, launching the Net a Porter repair service was a huge milestone for us. It also signified something so much more – it shows that businesses are starting to recognise the need for change and are taking action to address the environmental challenges associated with the industry. 
Repair programmes also offer retailers an opportunity to build stronger relationships with their customers and increase brand loyalty. It provides an opportunity for retailers to differentiate themselves from their competitors and appeal to consumers who are increasingly concerned about the environmental impact of fashion. 
What are some of the critical changes you would like to see that would bring about faster change within your sector/business area? 
I think one of the critical changes that will make a huge difference will of course be EPR legislation. 
You can find out more about The Seam and their services on their website. For more CE Stories, visit the CE-Hub website.