Sustainability and Circularity in the Textile Value Chain – Global Stocktaking
2020, UNEP International Resource Panel
The intention of this UNEP report is to apply an evidence-based value chain approach, mapping the textile value chain with its stakeholders, as well as environmental and socio-economic impacts along different value chain stages. Based on this analysis, the report identifies associated hotspots in all sustainability dimensions. Giving examples of the many initiatives that are already being undertaken, the report outlines gaps, barriers and opportunities to work towards a more sustainable and circular textile value chain, highlighting priority actions.
Top insights:
• Increasing consumption, manufacture and use of textile products affect the global climate, the quality of ecosystems and human health, through their high use of energy, chemicals, land, and water
• High social risks despite the much-needed employment and essential human services it provides
• High use of energy and/or natural resources: extensive use of chemicals in cotton cultivation & wet textile processing particularly impacts on human health & ecosystems
• Priority actions are 1) the need for stronger governance to drive the change; 2) the need for collaboration and financing to implement solutions; and 3) the need to change consumption habits Circularity goes beyond incremental improvements, e.g. increasing resource efficiency, increasing recycling rates and decreasing hazardous chemical use, and requires a system-wide approach, transforming the way textiles are designed, produced, consumed, and disposed of. Achieving systemic changes will require coordinated actions by all stakeholders and across regions. The full report is available in English and the Executive Summary in French, Arabic, Chinese, Spanish and Russian.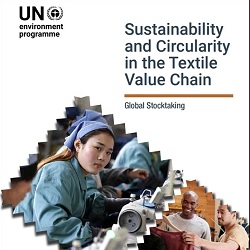 Sustainability and Circularity in the Textile Value Chain - Global Stocktaking
View resource