Right to Repair – CE-Hub Lunchtime Webinar Series
26/05/2022
12:00 pm
Online Webinar
On Thursday 26th May, the CE-Hub kicked off the 2022 Lunchtime Webinar series with a lively discussion on the 'Right to Repair'. But what does Right to Repair really mean?
Keeping products and materials in use for longer is a key part of a circular economy, being able to replace and repair components within products is one way of doing this, however many products we use every day such as mobile phones, laptops, refrigerators and washing machines are not designed to be repaired. In this webinar we explored the practicalities of designing for repair, citizen engagement in repair and the challenges and opportunities for repair associated with product safety and legislation.
Professor Lorraine Whitmarsh guided our expert panel and audience through several aspects of Right to Repair:
• Right to Repair and what it means for CE,
• the practicalities of repair from a design and technology perspective,
• consumer acceptance of alternative consumption models including repair and
• the challenges and opportunities from a legislative and product safety perspective.
Following presentations from our panellists, the audience Q&A raised discussions on: 3D printing of replacement parts, repair of items beyond electronics such as textiles, planned obsolescence of products and shifting perceptions of ownership.
The whole webinar is now available to watch online.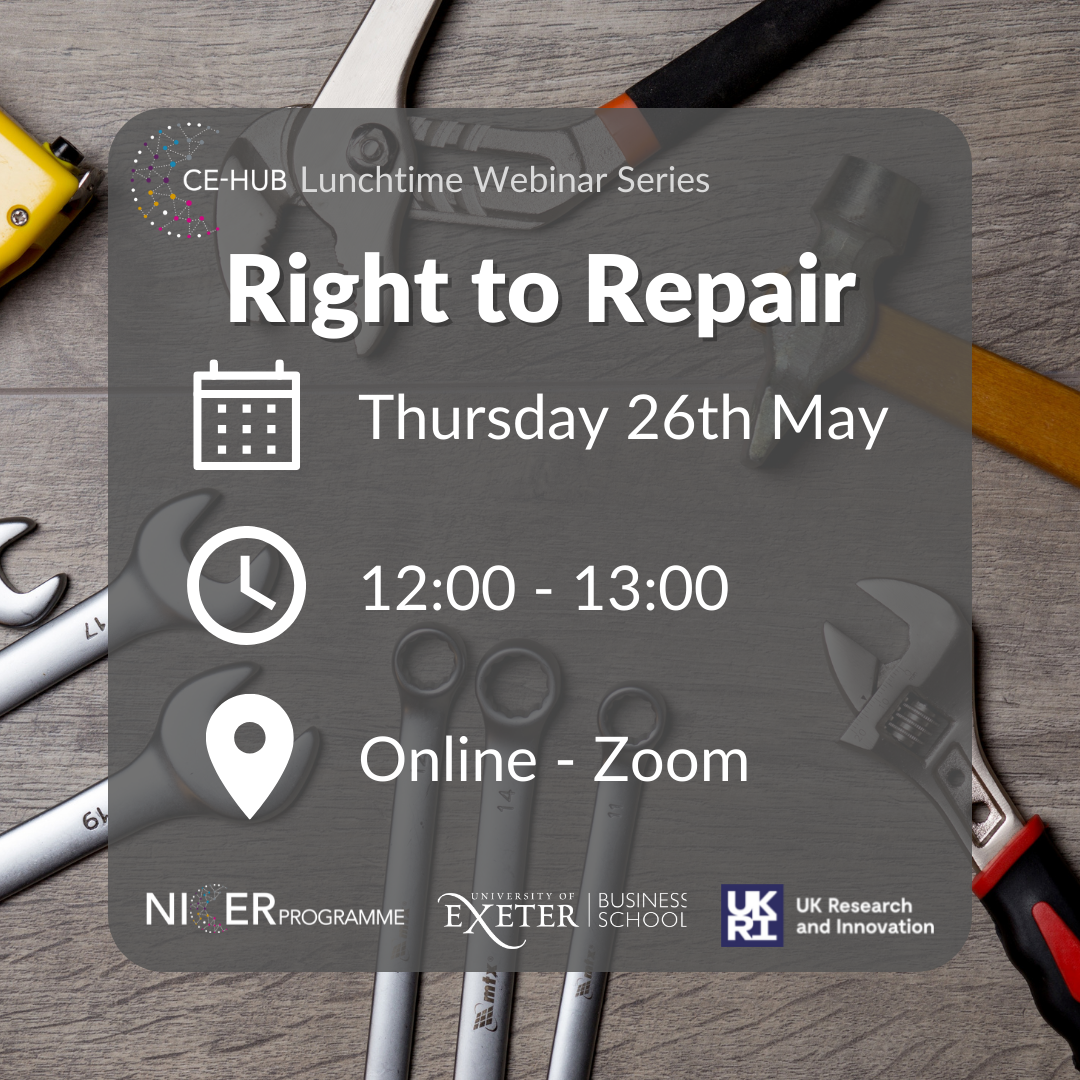 Right to Repair Webinar Speakers:
Professor Mark Miodownik and Danielle Purkiss talked us through the Big Repair Project which launched this January. The project studies the lifetime of appliances and electronics in peoples' lives. Increasing repairability will be as much social, cultural and economic change as it is technological. The Big Repair Project allows citizens to get involved in how they want this change to happen.
Dr Zaneta Muranko, specialises in design engineering and human behaviour in the circular economy at the CE-Hub. She discussed the consumer journey and what factors influence purchase decisions at different stages of the supply chain. She works closely with public sector and businesses to help facilitate a shift to circular economy.
Stephen James, Lead Engineer at BEIS Office for Products Safety and Standards discussed the challenges and opportunities in repair from a legislative and standards perspective. OPSS was created in January 2018 to deliver consumer protection and to support business confidence, productivity and growth. He discusses the regulation of a wide range of products with a focus on their safety and integrity including research on trends in the green economy, the impact on safety, and the safe transition to net zero.
Kyle Wiens, founder of IFixit provided a lively presentation on the accessibility of repair. IFixit produce free repair manuals for electronics so that you can fix things yourself, at home. They help thousands of people repair their devices every day, and every time you fix something, you help the planet by keeping e-waste from entering the landfill.
View the Recording