Circular Economy in the South West – Workshop & Networking Event with Innovate UK
28/02/2023
9:20 am
Reed Hall, University of Exeter
Overview
The CE-Hub is pleased to collaborate with Innovate UK KTN to deliver the first first session of the Women Innovators in Foundation Industries (WINFI) workshop series.
WINFI, as part of the TFI Challenge, is hosting a Circular Economy Workshop & Networking Event. This event aims to provide a platform for businesses and early career researchers (ECRs) to meet, network and discuss the topic of circular economy for materials. ECRs can learn about the real-world applications of their CE research, and businesses can be inspired by the next generation of circular economy thinkers.
What to expect:
This exclusive one-day event will feature an interactive workshop delivered by Circular Economy experts. Businesses and ECRs will team up and take part in a problem-solving mini hackathon style workshop. This is a great chance for ECRs to engage with experts in the sector and enhance their career progression.  The workshop will be facilitated by Debbie Ward (Cirklo Consult) and Clare Ollerenshaw (Accelar Limited). There will also be a series of short presentations from local businesses to present their work and circular economy related projects. This will give attendees the chance to learn from innovative businesses, share ideas, understand the application of CE principles and build relationships. The UKRI National Circular Economy Hub (CE-Hub) who will also facilitate a 1h mini workshop on roadmap development, to support and shape a circular economy action plan for attendees. In-person spaces are limited to 50 attendees and will be allocated through an Expression of Interest form.
Who should attend:
Foundation industry/materials businesses with expertise or interest in the circular economy
Early career researchers and PhD students studying a circular economy/materials related topics
These sessions are open to any stakeholders (of any sex and gender) in the foundation industries and related materials sectors.
Register online.(External link)
Agenda: 
09:20 Registration opens
09:50 Welcome & Introduction from TFI challenge – Bruce Adderley, Innovate UK
10:00 Welcome & Introduction from UKRI Circular Economy Hub – Professor Fiona Charnley, University of Exeter
10:10 Presentations of Circular Economy projects in Foundation Industries / Materials sectors + Q&A
11:10 Comfort Break
11:30 Circular Economy Workshop led by Cirklo & Accelar
13:00 Networking Lunch
14:00 Circular Economy Workshop Continued
15:30 Comfort Break
15:45 CE Hub led activity – Roadmapping your journey to the Circular Economy      
16:45 Close
Speakers:
Sophie Jackson – Circular Economy Strategy Lead, Circular&Co
Lucy Crane – ESG & Sustainability Manager, Cornish Lithium
Sara Howard – Ceramicist, Circular Ceramics
Sonja Peacock – Sustainability Specialist, DS Smith
Edita Adamcikova – Head of ESG, Viridor
The Transforming Foundation Industries (TFI) Challenge
The Transforming Foundation Industries (TFI) Challenge is a programme of interventions designed to stimulate scale-up of the innovative technologies necessary to ensure a sustainable future for the Foundation Industries (Cement, Glass, Ceramics, Paper, Metals and Bulk Chemicals).
How will we respond to new materials demands and processes in the future? Women Innovators in Foundation Industries (WINFI) is an initiative to increase the number of innovators with new ideas, skills and perspectives to help achieve industry's 2050 goals.
WINFI's vision is to:
Raise the profile of women innovators as thought leaders in Foundation Industries
Enable the "inner innovator" of professionals in the Foundation Industries through key activities
Create networking opportunities for stakeholders (women, men, allies, young people) to foster innovation collaborations and partnerships
Over the next year, WINFI will be sharing regional opportunities to increase the visibility of innovators within and outside the foundation industries, provide exposure to better ways of working and encourage cross-sector collaboration.
These sessions are open to any stakeholders (of any sex and gender) in the foundation industries and related materials sectors.
Please do not hesitate to contact neelam.mughal@iuk.ktn-uk.org if you have any questions.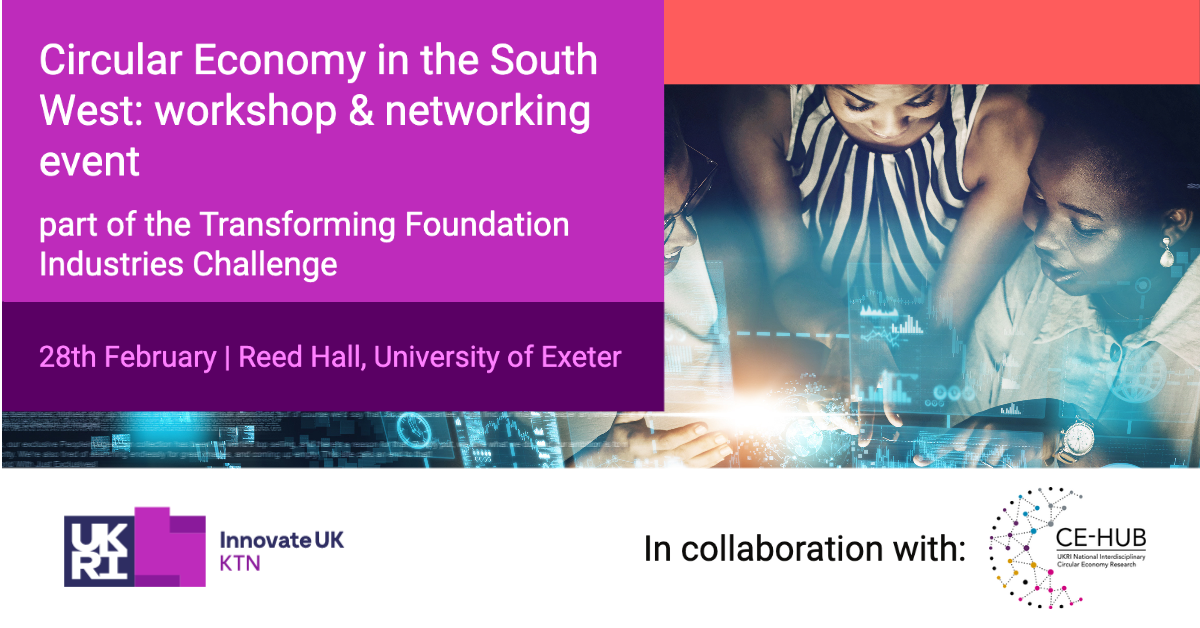 Register Here