Circular Economy and Achieving Net-Zero – CE-Hub Lunchtime Webinar Series
23/06/2022
12:00 pm
Online Webinar
"The IPCC identified that consumption and exploitation of resources is the strongest driver of CO2 emissions…we have to change the way we are using products… Between 40-70% of the required reductions in Greenhouse Gas emissions could be achieved through changing behaviours and adopting CE practises to a greater degree." Says Keith James from WRAP during the latest CE-Hub lunchtime Webinar, focussing on how CE principles can help us achieve Net Zero.
Following from the 26th UN Climate Change Conference of the Parties (COP26) in November 2021 and the formation of the Glasgow Climate Pact, discussions on the actions required to reach NetZero have reached the public eye. Net Zero and the need to limit global temperature rises are more present in the public and government agendas now more than ever. In our most recent lunchtime webinar on Thursday 23rd June, we explored how Circular Economy principles can be applied to achieve these vital targets.
Professor Ian Bateman guided our expert panel and audience through several perspectives of CE and Net Zero including:
• how the Natural Capital approach can integrate CE principles,
• biomimicry in design of circular textiles,
• circular actions that everyone can take today to help us towards net zero,
• how systemic design is integral to shape our sustainable future.
Following presentations from our panellists, the audience Q&A raised discussions on: designing products for longevity, the role of consumers and the role of businesses in taking action to reach net zero targets, material use and design in fast fashion.
The whole webinar is now available to watch online.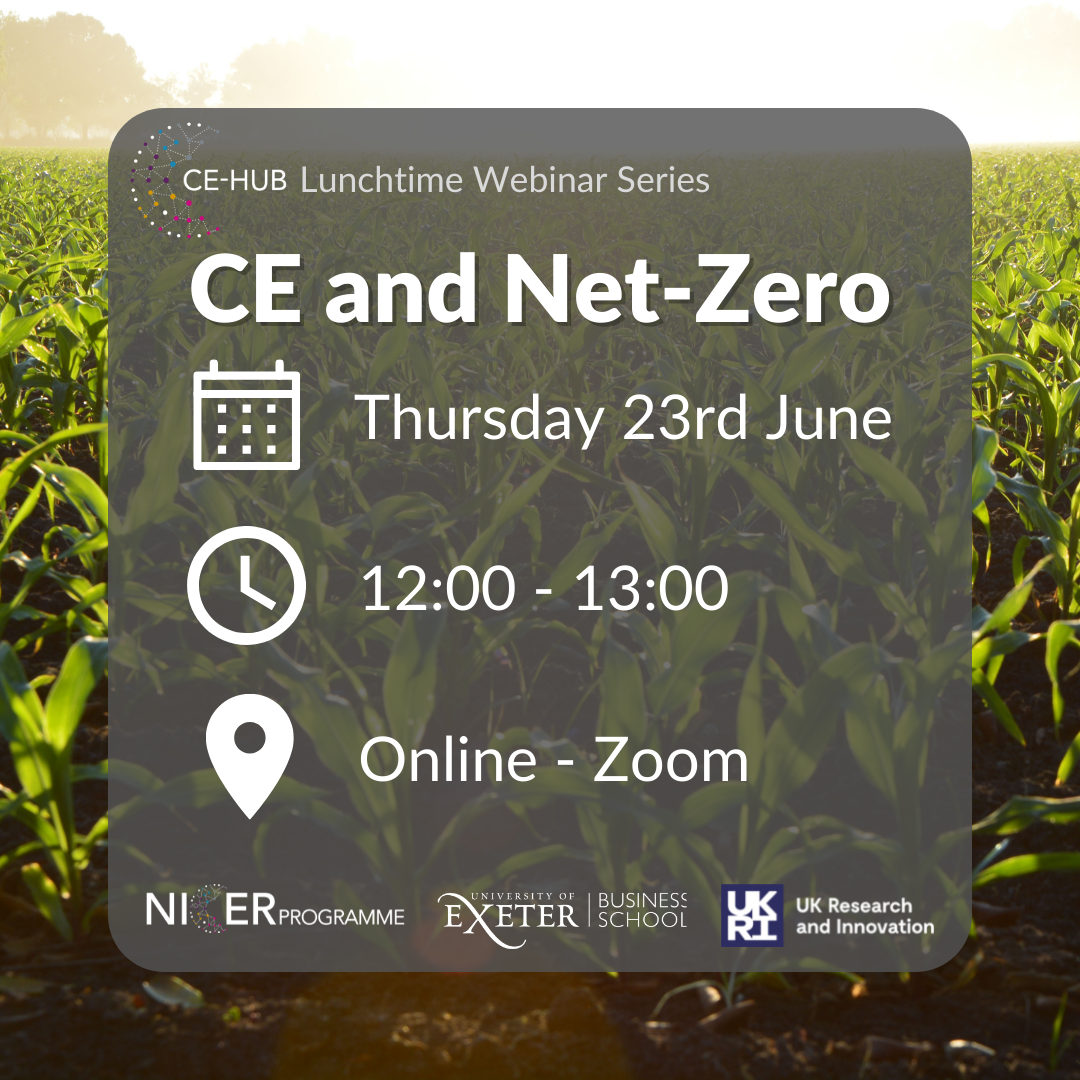 CE and Net Zero Webinar Speakers:
Professor Ian Bateman, University of Exeter
Ian is an environmental economist with a wide array of research interests. These revolve around the issue of ensuring sustainable wellbeing through the integration of natural and social science knowledge within decision making and policy. Particular interests lie in the fields of quantitative analysis, integrated modelling and the valuation of non-market benefits and costs. To find out more about Ian's work presented in the webinar, take a look at the Land, Environment, Economics ad Policy Institute website.
Ellie Banwell, The Biomimicry Institute
Ellie Banwell is a scientist and designer specializing in biomimetic design and the circular economy. Her design portfolio includes projects to create stronger community links between Israelis and Palestinians as well as ways to restore lost metals to the industrial resource cycle. During the webinar, Ellie presented the Biomimicry Institute's Design for Decomposition work.
Keith James, WRAP
As Head of Policy and Insights, Keith leads a team of experts across WRAPs areas of interest to support policy makers around the world with insights which inform the development and implementation of policy. This includes informing national waste management and prevention strategies, and strategies to decarbonise the UK, including the role of material resources in delivering Net Zero. WRAP have recently published a series of reports on Levelling up through a more circular economy which can be found on their website.
Niamh Crawford, Design Council
Niamh Crawford is Senior Programme Manager at the Design Council, responsible for leading the delivery of Social Innovation programmes. The Design Council has recently published the Beyond Net Zero: A Systemic Design Approach which has been developed to help designers working on major complex challenges that involve people across different disciplines and sectors. It places our people and our planet at the heart of design.
View the Recording