Circular Chem Summer School 2023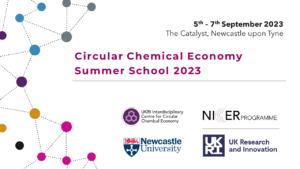 Circular Chemical Economy Summer School 2023
5th – 7th September, Newcastle upon Tyne
Join a pragmatic in-person Summer School event, hosted by the UKRI National Interdisciplinary Centre for the Circular Chemical Economy (CircularChem) and Newcastle University.
The Catalyst – an impressive, award-winning building in the centre of Newcastle upon Tyne – will open its doors this September to everyone interested in the circular chemical economy.
The Summer School will include:
Talks on the barriers and enablers for the circular economy, from industry speakers representing different stages of the supply chain;
A panel discussion addressing the question: "How do we distribute value across a circular supply chain?";
An introduction to Life Cycle Assessments, including a practical demonstration of open-source software tools for LCA;
Further practical learning opportunities, covering blockchain analysis and more.
And a fascinating a series of industry case studies.
Visit the event page for more information: https://ccesummerschool2023.eventbrite.co.uk