CE and Citizens – CE-Hub Lunchtime Webinar
17/11/2022
12:00 pm
Online Webinar
In our final lunchtime webinar of 2022, we discussed citizen behaviour and engaging citizens in CE. The lively session, chaired by Dr Żaneta Muranko, CE-Hub, covered topics of engaging citizens in CE activity, understanding citizen behaviour to influence business models and circular interventions and measuring and enabling behavioural change.
"On average, 26% of clothing [in your wardrobe] has not been used in the past 12 months" says Neha Rao, Sector Specialist at Wrap, sharing findings from their recent Citizen Insights: Clothing Longevity and Circular Business Models Receptivity in the UK report. The report was the largest audits commissioned by Wrap and aims to help us understand predicted longevity of clothing and different routes of acquisition (new, second hand, rented).  While the report has shown that on average we are using clothing for longer, there is still much we can do in this space to minimise over-consumption and the environmental and societal impacts that follow.
Dr Bruna Petreca also echoed that textiles and fashion is a complex area of over-consumption. Understanding Citizen Behaviour and Citizen Engagement is a key strand of research at the NICER Textiles Circularity Centre. Through the Regenerative Fashion Hub TCC is using a human wellbeing framework to bring research into the public space, creating opportunities for citizens to interact and engage with textiles development. Developing a deeper understanding our motivations, aspirations and fears to inform CE design and interventions.
Catriona Tassell went on to share her work with the Dyson School of Engineering, working to understand how consumers use and dispose of fast moving consumer goods (FMCGs). FMCGs are low price, short use products such as cleaning, food and grooming products. As consumers are generally responsible for the end of life treatment of these products and packaging, many CE interventions to date have focused on refill and reuse. Cat's work investigates how consumers behave once they have already made the first step to using refill and reuse products. She has found that there is often 'imperfect' use of these products, for example, many people own several reusable products or continue to use disposable products despite owning reusable alternatives.
The following Q&A with the audience led to discussions on how we measure behavioural and societal change, actions and logistics in enabling and facilitating change, the role of the consumer in implementing to a CE at scale, the language surrounding citizens and consumers and how we can all support an accelerated transition to a CE at scale.
This and previous webinar's are available to watch on the CE-Hub Youtube Channel. To keep up to date with our webinars and other events, follow us on Eventbrite, LinkedIn and Twitter and sign-up to our newsletter for news across the NICER Programme.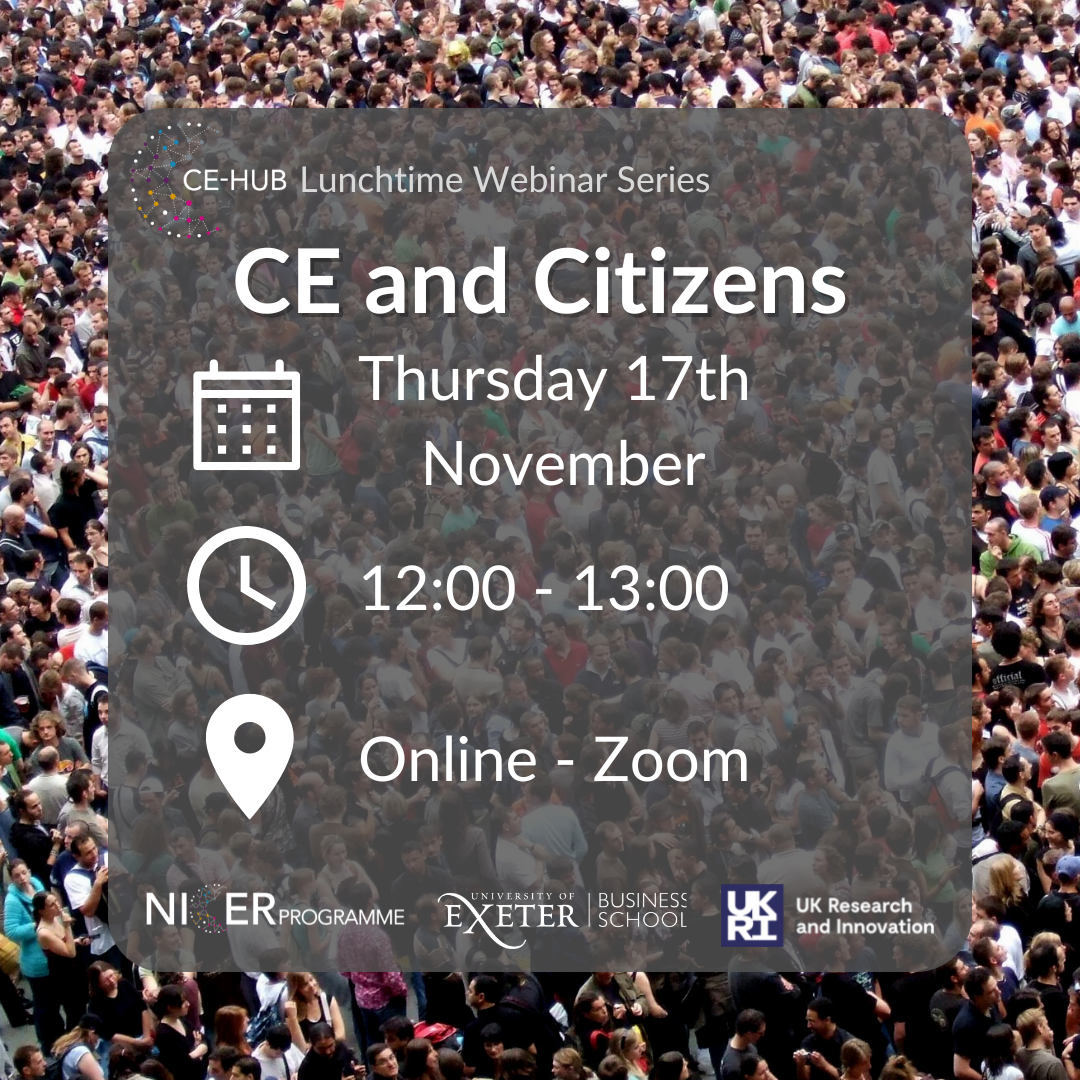 Meet our Speakers
Event Chair: Dr Żaneta Muranko University of Exeter and CE-Hub
Żaneta is a Circular Economy Impact Fellow at the Circular Economy Hub, University of Exeter where she works closely with academics, industry, and policymakers on developing and evaluating circular economy interventions. She specialises in design engineering and human behaviour in the circular economy. Her interests centre on people's circular journeys, human behaviour networks and circular system design.
Throughout her academic-industry career, she researched various aspects of circular economy (including recent works on reuse of FMCGs), taught circular design at UK universities and developed a portfolio of commercial circular product and system designs. She holds an interdisciplinary PhD in Design Engineering, Behavioural Science and Circular Economy.
Neha Rao Wrap
Neha is a sustainable textile designer and has national and international experience working with various textile companies and designers in India and the United Kingdom. She specialises in understanding textile material and technique. She is the Associate Sector Specialist for Textiles at WRAP. She holds an MA in Textile Design at Chelsea School of Art and Design University of Arts London.
Catriona Tassell Dyson School of Design Engineering, Imperial College London
Catriona is the recipient of an Industrial CASE (iCASE) PhD studentship, based at the Dyson School of Design Engineering, Imperial College London, and working closely with Proctor & Gamble. Her work seeks to understand the barriers and enablers to circular consumer behaviour for fast-moving consumer goods. Most recent research outputs have modelled actual reuse behaviour for FMCGs and identifed a range of unintended consequences in the transition to more sustainable consumer practices. She translates insights into business strategy with the aim to equip industry with the knowledge and tools to design better product service systems for reuse and implement behaviour change techniques. Catriona has a background in Psychology and has also worked in sustainable fashion.
Dr Bruna Petreca  RCA and NICER Textiles Circularity Centre
Bruna is a design researcher and practitioner whose research engages with and develops a deeper understanding of the sensory characterisation of materials.
Bruna holds a PhD in Design Products (Royal College of Art), and a BA in Fashion & Textiles (Universidade de São Paulo, Brazil). She is interested in our experience of materials in both physical and digital environments, focusing – though not exclusively – on textiles, and investigates how to support designers in exploring and expressing the multisensory aspects of this rich experience.
Register on Eventbrite Here